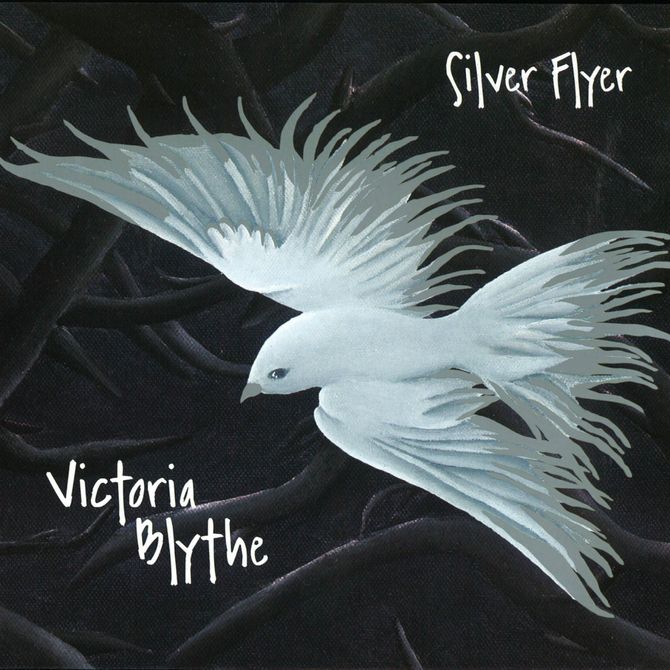 Silver Flyer CD
Joni Mitchell meets Nora Jones--stunning voice, dazzling guitar, brilliant originals and innovatively interpreted covers. Victoria's just-released debut solo CD, Silver Flyer, blends jazz, folk and pop influences into ear-catching, unique and varied songs. The songs (and her live band) are infused with the stunning talents of guitarist Walter Strauss. Walter's translations of African kora (folk harp) music to guitar have been widely acclaimed as works of amazing virtuosity, and his intricate work on Silver Flyer is receiving the same level of praise. A multi-layered, multi-textured, one-man folk festival" Maverick Magazine. Also prominent on the album is John R. Burr on keyboards, blending his phenomenal jazz technique with a genuine love of folk music. "Pianist extraordinaire John R Burr has the most sparkling style since former Allman Brother-turned-Rolling Stone hired hand Chuck Leavell." The Philadelphia Weekly. 
The album consists of two cover tunes -James Brown's "I Feel Good" and Dave Carter's "Tanglewood Tree" (with Tom Kimmel on the duet vocal)—and eleven songs written by Blythe and her partner Greg Beattie, many of which have won awards (e.g. Kerrville New Folk winner, West Coast Songwriters Grand Prize and Song of the Year) or have been placed in TV and major motion pictures through Universal Music (e.g. Anywhere but Here, Angel, Fame LA) and others.
Silver Flyer at CD Baby
James Brown Tribute Song and Video
On August 1, Universal Pictures will be releasing the James Brown biopic "Get on Up."  In recognition of this event and for airplay in connection with it,  Victoria is releasing her cover of "I Got You (I Feel Good)" in advance of her jazz/R&B/pop album Silver Flyer, to be released later this fall. The song is just her sultry, nimble voice, dressed in nothing but a stand-up bass……check it out!